By Karen M. Johnson
When trainer Kiaran McLaughlin was plotting his course to the 2014 Kentucky Derby Presented by Yum! Brands (gr. I), he did so with a horse who he believed represented his first proper chance of winning the race.
But two weeks before the Derby, Cairo Prince , the smashing winner of the Miller Lite Holy Bull Stakes (gr. II) and an early-spring favorite to win the first leg of the Triple Crown, was declared a non-starter with a leg injury. As it turned out, Cairo Prince did not race again and was retired last fall.
McLaughlin, a former D. Wayne Lukas assistant who grew up near Lexington, has started five horses in the Derby, all longshots. He came tantalizingly close to winning with his initial starter, the 71-1 Closing Argument, who ran second to Giacomo in 2005.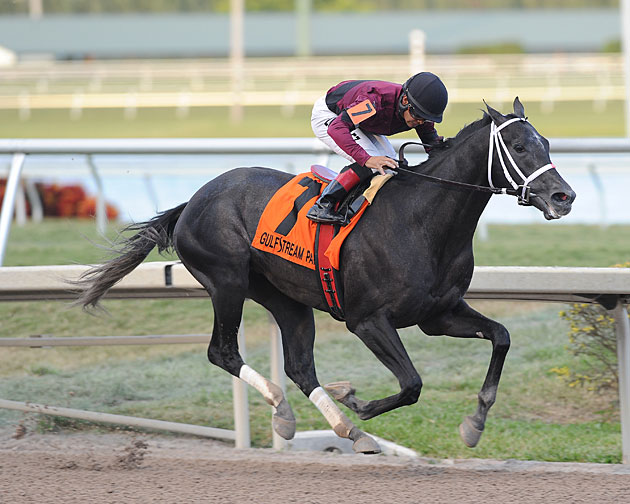 "It probably was the biggest disappointment of my career, not getting to the Derby with Cairo Prince," said McLaughlin, who began training in 1993. "He had everything you looked for in a horse going into the Kentucky Derby. Furthermore, it was so difficult because I had brought Godolphin and Sheikh Mohammed in as a partner on Cairo Prince, after the Holy Bull. I had worked for Godolphin for 21 years, and because of that, I took it a little more personally and to heart when the horse got hurt."
Redemption looms this year in the form of two Godolphin homebreds, Frosted and Imperia.
On Feb. 21, the McLaughlin-trained colts will take divergent paths in search of Derby points. Frosted, the runner-up in the Lambholm South Holy Bull Stakes (gr. II) on Jan. 24, starts in the Besilu Stable's Fountain of Youth Stakes (gr. II) at Gulfstream Park. Imperia, the winner of the Pilgrim Stakes (gr. IIIT) at Belmont Park and runner-up in his dirt debut in the Kentucky Jockey Club Stakes (gr. II) at Churchill Downs, makes his first start of 2015 in the Risen Star Stakes (gr. II) at Fair Grounds Race Course & Slots.
For Godolphin, McLaughlin has saddled one Derby starter, Alpha , who finished 12th in 2012. Dating back to 1999, horses carrying Godolpin's ubiquitous royal blue silks have been stymied on the first Saturday in May. The best finish from the eight runners the juggernaut operation has sent to Churchill Downs came from China Visit, who was sixth in 2000.
"I know working with Godolphin and living in Dubai for 10 years, that Sheikh Mohammed is as passionate an owner as there is in the world," McLaughlin said. "He's given so much effort trying to be a top owner and to win top races around the world, and the Kentucky Derby is just one that has eluded him so far. But, hopefully, one day he will get it. I hope I'm a part of it. That would be fabulous. That Frosted and Imperia are both homebreds for Godolphin makes it an exciting thought."
Also in the Derby hunt for McLaughlin are Stonestreet Stables' Ocean Knight, who is undefeated in two starts after winning the Jan. 31 Sam F. Davis (gr. III) at Tampa Bay Downs, and Cheyenne Stables' Classy Class, the third-place finisher in the Withers Stakes (gr. III) at Aqueduct Racetrack on Feb. 7.